Mojave Desert Mirage | Self-Portrait Series
Just on the outskirts of the Mojave desert, I happened on this strange piece of cracked land while on my way to Death Valley, roughly two years ago.
I had headed to the desert to clear my head and recover from the end of a strange and brief love affair with a damaged actor.
I needed space and needed to create something beautiful from my aching heart. The best way I know how to cope with pain, has always been to create art.
Down an unmarked road off the highway and nearly deserted, I discovered this mysterious, vast, stretch of forgotten land...
There was something about it, desolate and expansive, with white, cracked salty earth, glowing pink mountains in the distance, and big blue skies, that captivated me. The ground looked like someone had taken a gavel and shattered the earth into millions of little puzzle pieces.
The land felt like a visual expression of my heart.
I took a little time to explore and take some impromptu self-portraits and then got back on the road. But the salty earth told me, I would be back.
So, when my schedule lightened up recently, and I found myself once again facing a heart full of longing and not knowing, I made a plan to return to the desert, my desert.
I won't lie, I had a lot of big plans for this shoot – but when I arrived to find the earth scalding hot and the sun beating down on me with its force of over 110 degrees, I had to make some choices about what I would shoot, as it was clear I was not going to last long.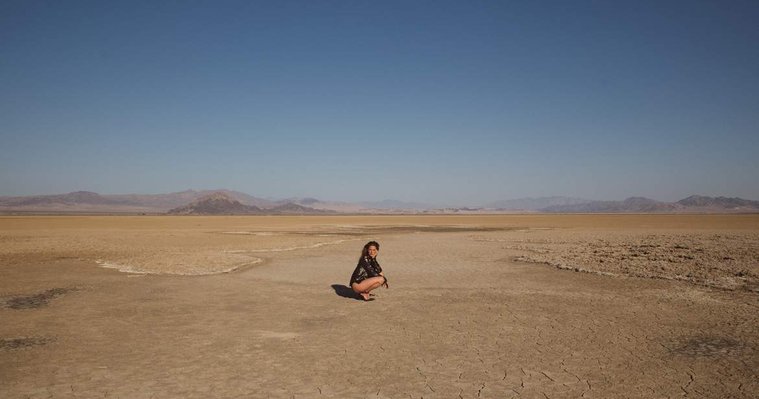 Despite the heat, I felt a bubbling joy at the space and freedom. An expanse of land all to myself.
There is something about the desert for me…it feels like a blank canvas, but the canvas has a spirit to it. It's eerie but enchanting.
The emptiness almost begs for a subject. And when you place a figure in the frame, it immediately feels out of place, like a dream…or a mirage.
Perhaps this is just my way of dreaming myself up, dreaming myself anew.